Second Assessment Report on Climate Change and Cities (ARC3.2) (2018)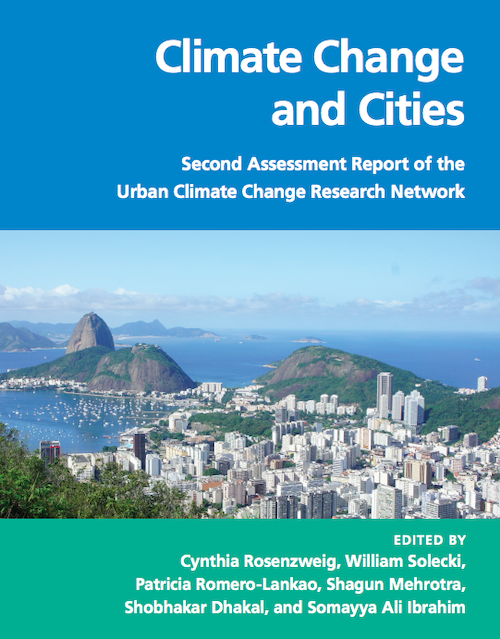 Urban Climate Change Research Network (UCCRN) Second Assessment Report on Climate Change and Cities (ARC3.2)
Cynthia Rosenzweig, William Solecki, Patricia Romero-Lankao, Shagun Mehrotra, Shobhakar Dhakal, Somayya Ali Ibrahim
2018, Cambridge University Press
Citation: Rosenzweig, C., Solecki, W., Romero-Lankao, P., Mehrotra, S., Dhakal, S., & Ali Ibrahim, S. (Eds.). (2018). Climate Change and Cities: Second Assessment Report of the Urban Climate Change Research Network. Cambridge University Press.
To purchase a hardcopy of the ARC3.2 report
The Urban Climate Change Research Network's Second Assessment Report on Climate Change in Cities (ARC3.2) is the second in a series of global, science–based reports to examine climate risk, adaptation, and mitigation efforts in cities. The book explicitly seeks to explore the implications of changing climatic conditions on critical urban physical and social infrastructure sectors and intersectoral concerns. The primary purpose of ARC3.2 is to inform the development and implementation of effective urban climate change policies, leveraging ongoing and planned investments for populations in cities of developing, emerging, and developed countries. This volume, like its predecessor, will be invaluable for a range of audiences involved with climate change and cities: mayors, city officials and policymakers; urban planners; policymakers charged with developing climate change mitigation and adaptation programs; and a broad spectrum of researchers and advanced students in the environmental sciences.
'The best science has illuminated major risks facing our planet, and as mayors, we have heeded the call to tackle climate change head-on … ARC3.2 provides the critical knowledge base for city actions on climate change around the world.' Anne Hidalgo, Mayor of Paris, from the Foreword
'ARC3.2 presents cutting-edge scientific information on climate change mitigation and adaptation in cities. It offers detailed information to support policy-makers in making better, more information-informed decisions about how climate change affects public health, local infrastructures and the economy. … The remarkable ARC3.2 will make a difference in developing effective and efficient climate change mitigation and adaptation policies in cities.' Eduardo Paes, Former Mayor of Rio de Janeiro and Former Chair of C40, from the Foreword
'… the gold standard for science-based policymaking as we enter into the post-2015, climate change implementation era.' James Nxumalo, Former Mayor of Durban, from the Foreword
'… a great example of the benefit of interdisciplinary science-policy co-operation. … ARC3.2 will help to ensure our future cities enable us to live more sustainably and to be more resilient.' Joan Clos, Former Executive Secretary of UN-Habitat and Former Mayor of Barcelona, from the Foreword
'With the international community now galvanized to put the world on a climate safe pathway, the evidence is stacking up that cities have a key role to play. The second edition of the ARC3 report from the Urban Climate Change Research Network provides a critical knowledge base for global cities as they respond to climate change challenges and seize the economic opportunities of low carbon, climate resilient development. Leading mayors, through networks such as the C40, are learning from each other, exchanging ideas and thereby accelerating local action on the ground.' Mark Watts, Executive Director, C40 Cities Climate Leadership Group
'The Climate Change in Cities report zooms in at the city level, providing us with a wealth of local climate data. And what these data tell us is that if we are to overcome the climate change challenge, we need more than ever the concerted efforts of all levels of government, multilateral institutions, civil society and the business sector.' Gino Van Begin, Secretary General, ICLEI-Local Governments for Sustainability