Climate Resilient Urban Design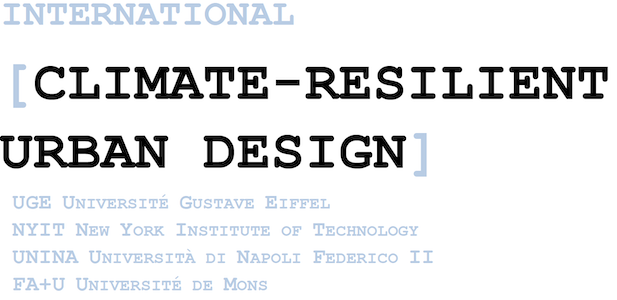 The effects of climate change are already visible today, with increasingly frequent and intense episodes of extreme heat and precipitations throughout the world. Urban climate must become a key consideration in planning and designing modern cities, and this requires fostering closer links between research and training for future professionals. The purpose of this Climate Resilient Urban Design (CRUD) project, based on organizing an international workshop, a "kick-off" conference, and the construction of urban objects with validation in the Sensecity climate chamber is to explore integrated design strategies by associating researchers and students (Gustave Eiffel University, New-York Institute of Technology, University of Naples Frédérico II, Mons University, Institut de la transition écologique of Sorbonne University).
The workshop is preceded by data collection work, territory discovery, and co-construction of expectations in terms of operational innovation with the designers (Atelier Georges) and the promoter (Nexity) of the "Porte de Montreuil -C40- reinventing cities" project. Formalization of concrete and operational expectations is carried out in relation to the objectives of the CRUD project, students' skills and any scientific knowledge that can be mobilized. The workshop will begin with a symposium day dealing with climate sciences applied to urban environments –delivered by? top-level scientists. Work will then concentrate on the design of concrete proposals which will be developed into prototypes. The climatic performance of these prototypes will be studied by reproducing specific weather conditions in the Sensecity climatic chamber. Formalization of the experimental research process and the relevance of the proposals will be studied in light of the test results. The CRUD project will be promoted by publishing a book and organizing an exhibition in partnership with UCCRN in 2022.
The CRUD project is funded through the call "Training "to" and "by" research" 2019. It will be carried out between January 2020 and December 2021.